Ürün Hakkında Açıklama
Buy The Ship: Remasted and get The Ship: Murder Party FREE!
You'll now get The Ship: Murder Party for FREE when you buy, or own The Ship: Remasted. Oh buoy, what a deal! For those of you that already own The Ship: Remasted, make sure to update the game in your Steam Library to get access. Happy hunting!

*Please be aware that this is a non-giftable copy. It will be added to your library.


Now Includes World Leaders!
Not only can you play with the original world leaders such as Thatcher, Castro, Blair and Bush from The Ship: Murder Party, but we've added two more potential leaders to the mix - Hillary Clinton and Donald Trump. So whether you're with Hillary or believe Trump can't be stumped, take up arms and prove who's the real captain of this ship!

The World Leaders is a FREE add-on that is included in the June 30th update.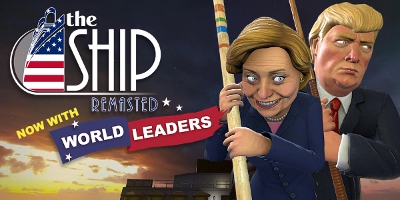 Oyun Açıklaması
The Ship: Remasted is a remake of the classic 2006 game, The Ship: Murder Party.

You find yourself aboard a series of luxury 1920s cruise ships – a guest of the mysterious Mr X who has engineered your presence on board to take part in a murderous game. You and your fellow passengers will be assigned a target to kill and must do so before your own hunter tracks you down. Armed with a wide array of weapons and traps, use all of your cunning and skill to dispatch your unsuspecting target and avoid sleeping with the fishes.

All aboard and enjoy the cruise.

Dedicated servers (16 players) are live! LAN (16 Players) and Listen Servers (8 players) are also available to set up. Please read our FAQs in the Steam discussion forums before you buy.

You can find our Development Roadmap here and it is updated frequently. We'll also be posting regular updates here on Steam and on our blog. Players can expect to see game updates once or twice a month at least, with the option to opt-in to test builds to check out new content and features before they go live.