Ürün Hakkında Açıklama
Upcoming updates
Current Top 5 biggest add-ons requested by players that will come along with the next patches:

Island claiming!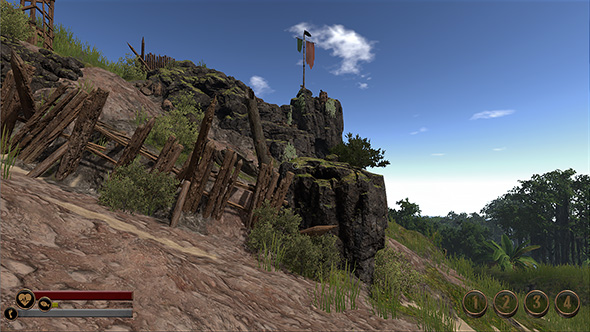 Old stronghold

When you really want to settle down and a big base is not enough, you may want to claim the island as yours. Look for abandoned fortifications and use it's masts to stick your clan's flag on top. The longer you own the spot, the longer it will take to depose you.
Of course, owning certain areas means bonuses for every clan member, for instance faster gathering.

Female pirates!
Start over or just re-customize your character - this time as Miss Pirate. Use the creator to choose skin color, hair style, age and every single detail of the face.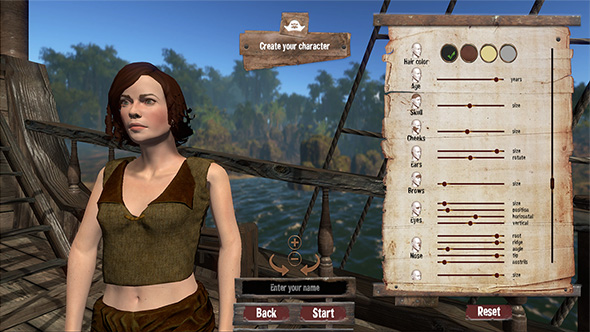 Customization window

Improved 6th sense!
As a proper pirate you should be able to smell goods and treasures from a long distance.. or at least know where to find basic resources to survive. The 6th sense mode together with compass will let you do that to improve gameplay's dynamics.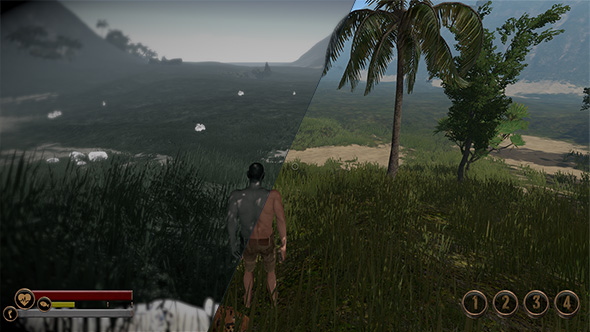 6th sense turned on/off

Gunpowder!
Since the pirate traders found out where your archipelago is, they won't stop on selling clothes and resources. Gunsmith is on his way to equip you with new kinds of long range weapon. Nonetheless, as you can see in the pic below, we still want to keep the gameplay balance and stick to the single-shot, flintlock pistols.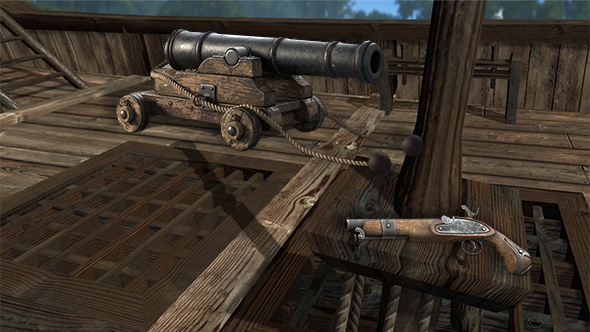 Pistols and cannons

Although handguns are meant to serve the way bows and crossbows do, the medieval cannon will surely be too heavy to carry, that's why you can expect new means of transportation in the near future!

Battle mode (Experimental)

Here we need a brainstorm and your thoughts about it. Battle mode is dedicated for those who like fast-paced deathmatches. Right now we've got some sketches that can be framed in a few points:
1. All the players start together in gliders during storm (some kind of an escape from sinking ships)
2. There's a special island to land on
3. The flood or tectonic events make the island sink slowly (and the level of surrounding water rises)
4. Players need to search old pirate villages and shipwrecks to equip themselves, build shelters and fight to be the one who survives the longest
Oyun Açıklaması



The one who said that a combination of thunder storms and sea rocks is the worst thing that can happen to sailors, clearly didn't have to survive one. The real deal starts the morning after, and this is the exact time when you, dear player enter the cruel world of Out of Reach.




The first enemy to encounter after surviving the storm will be your own body. Even the tropical forests have rainy days and cold nights... at least for a castaway in shorts. Searching for a shelter to stay over night could be almost as essential as finding food before someone considers you as something to eat.





Although the archipelago was considered deserted before ships started to crash into sea rocks nearby, every kind of area on the island has its natural inhabitants who just don't give a warm welcome. Thinking twice every time before moving ahead could be one of the smartest things to do.





Staying on a beach after crushing your boat allows you to hunt for slowly moving animals and gives the ability to see at long distances. Disadvantage - you can be seen from exactly the same distance and there's always someone to call you his own slow-moving food.

Before being able to found your first wooden settlement, you will need to stay constantly on the move, hunt and avoid being hunted at the same time. Getting to know the nearest neighbourhood could be your first step to stop looking like a bait. In Out of Reach, you are put into diverse environments of jungle, desert, plain, mountains and forest. Due to constantly changing weather and surrounding under players' influence and interaction you need to travel across the land in search of a minute of peace or gather enough resources to build a boat and find home on other parts of the archipelago.





In order to stay on the top of the food chain, you need to work harder than others. Everything starts from finding certain resources. Chop trees, mine stone, gather flax and food. Equip yourself and start searching for more sophisticated materials like copper and tin to produce bronze and other alloys.





Use a variety of workshops, furnaces and tools to craft armour and weapons. Check which combination of gear has better performance and suits your game style best. Upgrade equipment using new resources or items obtained in battle. Store, collect or trade your stuff with other players!





Looking for a place to store your timber or a quiet and cosy room to forge a sword and tan a skin of an elephant? Build your own stronghold! Use dozens of building elements like walls, stairs and floors to assemble the house of your dreams in an environment of your choice... or just take control of one.





The best solutions to problems are most often invented during battles. Everyday life on islands full of castaways is not an exception. To successfully protect your territory or gain control of a new one, you will need the advantage.
 
Ballista
The greater the distance, the safer you are. Ballista may be slow to load and unable to move but the ability to pierce a target with a 1,5m dart few hundred meters away in no time shouldn't be underestimated.
 
Trebuchet
Unusual situations require extraordinary solutions. When an axe doesn't help or doors are just too thick it's time for a trebuchet. Construction costs both time and resources but nothing surprises like a forced entry through a wall.
 
Traps
Well, there's actually one thing that surprises more - a tricky and deadly trap! Use trip wires at the doors, stairs or wherever you want, connect them with ballistae or boulder throwers, place a bait and wait for the unwelcome guests.
 
Glider
When everything fails, you might consider an attack from above. Construct a tower, install a launcher ramp and take off on a glider to bomb enemies' bases, get through walls or just take a look from a different perspective.